7本大数据必读书籍
不给分享书都不看帖
一点都不像真爱粉

好嘛,第二篇福利贴
价值『上千元』哦
希望各位多读书变帅变漂亮~~
---
1. Big Data: A Revolution That Will Transform How we live work and Think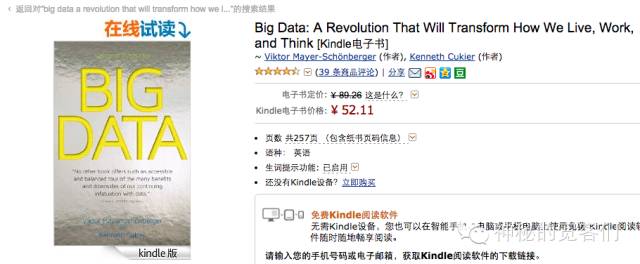 A revolution on par with the Internet or perhaps even the printing press, big data will change the way we think about business, health, politics, education, and innovation in the years to come. It also poses fresh threats, from the inevitable end of privacy as we know it to the prospect of being penalized for things we haven't even done yet, based on big data's ability to predict our future behavior.
In this brilliantly clear, often surprising work, two leading experts explain what big data is, how it will change our lives, and what we can do to protect ourselves from its hazards. Big Data is the first big book about the next big thing.

2. Big Data Now: Current Perspectives from O'Reilly Media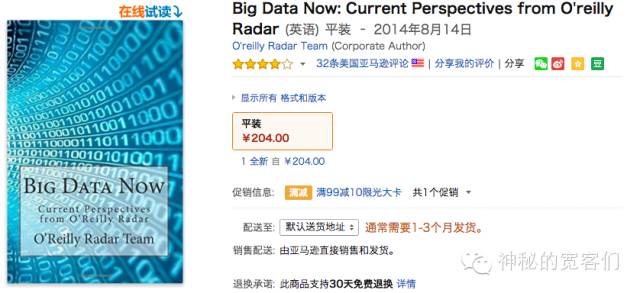 3. Data Science and Big Data Analytics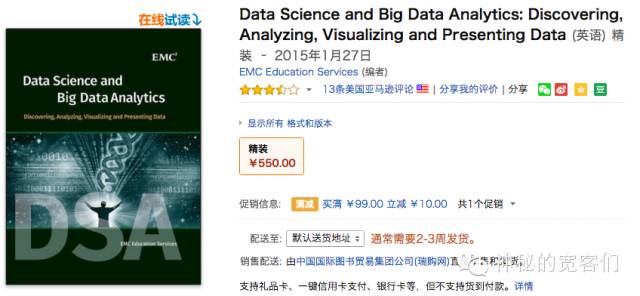 Data Science and Big Data Analytics is about harnessing the power of data for new insights. The book covers the breadth of activities and methods and tools that Data Scientists use. The content focuses on concepts, principles and practical applications that are applicable to any industry and technology environment, and the learning is supported and explained with examples that you can replicate using open-source software.

4. Practical Data Science Cookbook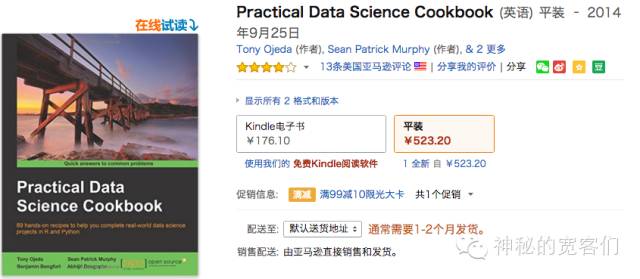 If you are an aspiring data scientist who wants to learn data science and numerical programming concepts through hands-on, real-world project examples, this is the book for you. Whether you are brand new to data science or you are a seasoned expert, you will benefit from learning about the structure of data science projects, the steps in the data science pipeline, and the programming examples presented in this book. Since the book is formatted to walk you through the projects with examples and explanations along the way, no prior programming experience is required.

5. Data Architecture: A Primer for the Data Scientest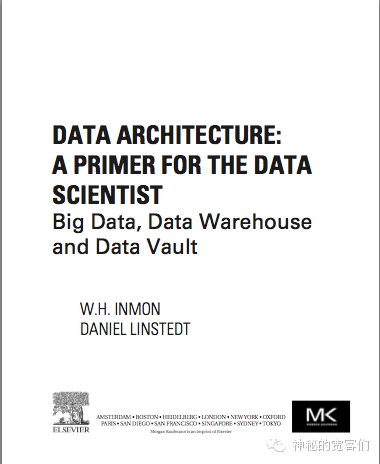 6. Data Fluency: Empowering Your Organization with Effective Data Communication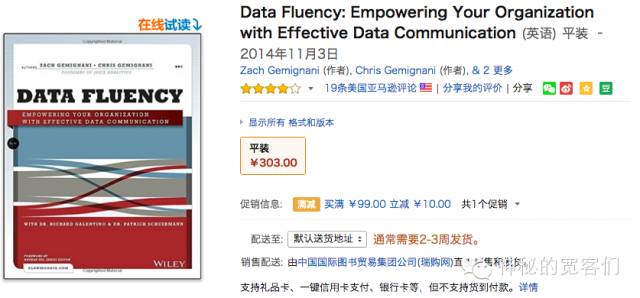 A dream come true for those looking to improve their data fluency

Analytical data is a powerful tool for growing companies, but what good is it if it hides in the shadows? Bring your data to the forefront with effective visualization and communication approaches, and let Data Fluency: Empowering Your Organization with Effective Communication show you the best tools and strategies for getting the job done right. Learn the best practices of data presentation and the ways that reporting and dashboards can help organizations effectively gauge performance, identify areas for improvement, and communicate results.
7. Advances in Complex Data Modeling and Computational Methods in Statistics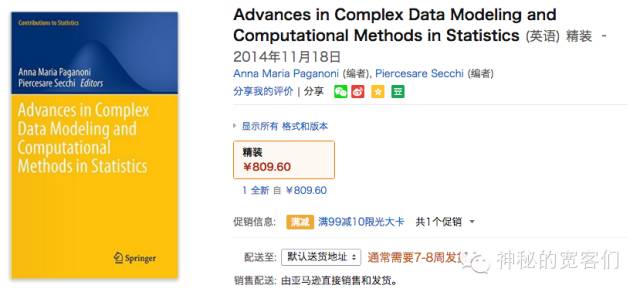 The book is addressed to statisticians working at the forefront of the statistical analysis of complex and high dimensional data and offers a wide variety of statistical models, computer intensive methods and applications.

This volume is the result of a careful selection among the contributions presented at the conference "S.Co.2013: Complex data modeling and computationally intensive methods for estimation and prediction" held at the Politecnico di Milano, 2013. All the papers published here have been rigorously peer-reviewed.
(来源:神秘的宽客们 作者:陈小米)

最全面超值的量化对冲课程(深圳)
量化与对冲概览

期货量化交易

量化投资在股票市场的应用

量化投资理论进阶与高级实践



2016年5月27--28日 深圳,两天4000元
咨询电话/微信:13061694649