微信号:androidperf
介绍:分享android 性能优化/android power 优化技术,经验.
ARM DynamIQ technology
Redefining multi-core processing for the next era of computing
DynamIQ technology redefines the multi-core microarchitecture for the industry and is the foundation for future ARM Cortex-A processors. DynamIQ will power the next wave of innovation through unprecedented design flexibility and advanced compute processing for intelligent solutions.
Key benefits
Intelligent compute capabilities

Improved data security and privacy, advanced safety and RAS features, and integrated AI capabilities that enable DynamIQ-based systems to deliver a wide range of solutions.
Built-in power saving features

Advanced power management features integrated into DynamIQ-based processors deliver higher amounts of power savings for energy-efficient designs.
Nearly unlimited configurations

Configurable options that enable new levels of flexibility and scalability for DynamIQ big.LITTLE and non-big.LITTLE designs. This allows more ways to design solutions that closely match product requirements.
Key features
1. A new single-cluster design
A DynamIQ cluster can be scaled from a single Cortex-A CPU to as many as eight* CPUs within a single cluster. This enables higher amounts of compute processing to take place within the CPU system.


This redesign also supports mixes of heterogeneous CPUs (see DynamIQ big.LITTLE below) within one cluster.
*Supports up to four 'big' CPUs or eight 'LITTLE' CPUs, or combinations thereof.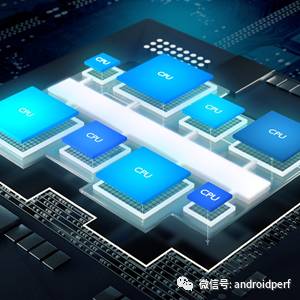 2. Intelligent compute capabilities
Cortex-A CPUs that are designed based on DynamIQ technology can carry out advanced compute capabilities in Machine Learning and Artificial Intelligence. Over the next three to five years, DynamIQ-based systems will deliver up to a 50x* boost in AI performance. This is achieved through an aggressive roadmap of future DynamIQ IP, integrated with new ARM architectural instructions, microarchitectural improvements, and further software optimizations to the ARM Compute Libraries.
*Compared to conventional, non-DynamIQ processors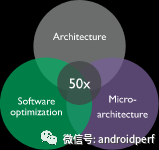 3. Interfaces for closely coupled accelerators
DynamIQ technology provides the ability to closely couple Cortex-A CPUs with external accelerators and I/O-coherent IP, delivering up to 10x* faster response times between CPU and specialized accelerator hardware on the SoC. This enables DynamIQ-based systems to carry out offload acceleration and I/O-coherent processing for applications such as cryptography acceleration and packet processing with higher performance and lower latency.
*Compared to conventional, non-DynamIQ processors
4. Built-in power-saving features
DynamIQ comes integrated with a host of new power management solutions. A more rapid and autonomous hardware-controlled power state transition mechanism reduces the latency between the power states supported by ARM Cortex-A CPUs, for example ON, OFF, and SLEEP. It also includes an autonomous CPU memory power solution, which intelligently adapts the amount of local memory available to the CPUs depending on the type of application running.

Additionally, DynamIQ technology enables finer-grained Dynamic Voltage and Frequency Scaling (DVFS) of individual and groups of CPUs in a DynamIQ cluster. This maximizes the achieved performance in devices that have a fixed thermal budget, while also providing more power savings from all applications of the technology.
5. DynamIQ big.LITTLE
Next-generation big.LITTLE Cortex-A CPU clusters can now be designed with a combination of high performance 'big' CPUs and high efficiency 'LITTLE' CPUs in one cluster, with a shared coherent memory. DynamIQ big.LITTLE delivers significant improvements in performance gained from a tighter, more coherent system.
It also presents unprecedented flexibility and new choices in CPU topology, such as 1xbig + 7xLITTLE, to deliver purpose-built solutions.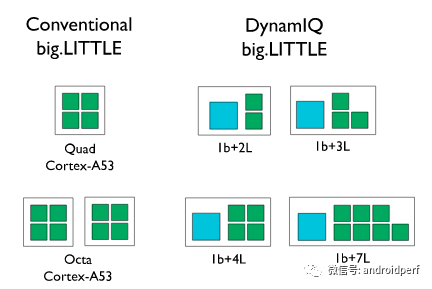 6. Advanced RAS and safety features
Safety features are deeply rooted in DynamIQ technology, enabling DynamIQ-based systems to achieve higher levels of safety requirements such as ASIL D and SIL-3. All DynamIQ-based IP are taken through a rigorous design flow to avoid systematic faults.

Additionally, safety-related application performance is improved with shorter latency in decision making and actuation across AI scenarios such as Advanced Driver Assistance Systems (ADAS) for autonomous vehicles.

DynamIQ based systems also come integrated with advanced features that improve Reliability, Availability and Serviceability (RAS) for applications such as industrial and infrastructure.